Fluor: overdoza
Već rekoh da je prilično fina granica gde je lekovita doza fluora, koja pozitivno utiče na razvoj zuba i završnu izgradnju kvalitetne gleđi zuba, a gde već ima štetna delovanja.
Problemi nastaju prosto zbog toga što smo okruženi fluorom sa svih strana – ovde mislim na arteficijelni, veštački dodat – mleku, soli, pijaćoj vodi, pastama za zube, čak i brašnu.

Dakle, vrlo prostom logikom, ako već ima nešto fluora prirodno u pijaćoj vodi, pa se doda još navedenim putevima, onda nastaju problemi.
Kod akutnog predoziranja smrtonosna doza za dete je oko 15 mg/kg, a za odraslog čoveka je verovatna toksična doza oko 5mg/kg telesne težine.
Ovo je sve "možda", zbog toga što su ovakvi slučajevi relativno retki, a kako već rekosmo – doziranje je individualno, te nije lako reći sigurno – baš to je smrtonosna doza;  online podaci se razlikuju od naših, jer se držimo naših udžbenika iz preventivne stomatologije.
Akutno trovanje fluorom uzrokuje naglo pogoršanje stanja, ali – ako je neka sreća – pacijent se jednako brzo i oporavlja, i to bez ikakvih posledica.
No, hronično predoziranje preparatima fluora je već sasvim drugačiji problem.
Zuba što se tiče, dolazi do fluoroze.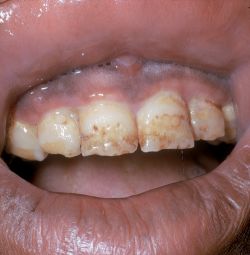 Nevolja je još u tome što ovaj element prolazi placentnu barijeru, te je zapažena fluoroza i na mlečnim zubima, dakle – i na trudnicama je moguće hronično predoziranje.
Sad, šta se zbiva: teoretski gledano, imate u pijaćoj vodi nešto fluora, stomatolog vam daje tabletice, imate ga u soli, u brašnu, u povrću (oko fabričkih pogona koji rade sa fluorom, bašte se zalivaju pijaćom vodom koja je fluorisana), pastama za zube i vodicama za ispiranje usta još dodajete fluor…
I onda imate štetne efekte hroničnog predoziranja.
Na ovih par linkova imate vrlo lepo i jasno pobrojano koja su korisna dejstva fluora:
USA PUBLIC HEALTH SERVICE, DEPARTMENT OF HEALTH AND HUMAN SERVICES
…i koje su posledice hroničnog predoziranja.
Srećna je okolnost što se stomatološka doktrina Kontinenta bitno razlikuje od  američke; u evropskim zemljama se voda ne fluoriše, ponegde samo so.
Drugim rečima: fluor itekako ima korisne efekte, ali – kao i sve živo oko nas – samo u terapijskim dozama.
Ilustracija: medical-dictionary.thefreedictionary.com